World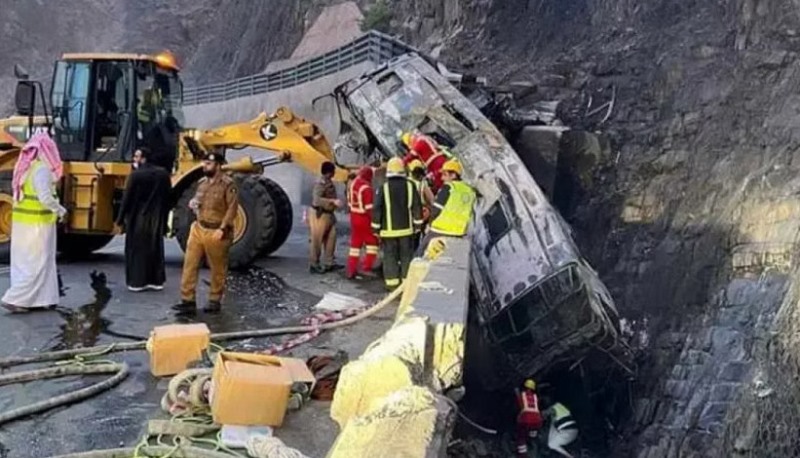 File photo/Collected
Number of Bangladeshi nationals killed in Saudi bus accident mounts to 18
Riyadh, March 30: So far 18 Bangladeshi Umrah pilgrims have been reported killed in a tragic road accident in Saudi Arabia. Besides, 16 more people are under treatment in the hospital. The Ministry of Foreign Affairs announced this information on Wednesday (March 29) night.
According to the ministry, there were 47 passengers in the bus that suffered an accident in Saudi Arabia. 34 of them were Bangladeshis. The injured have been admitted to different hospitals. The Ministry of Foreign Affairs has already revealed the identity of the deceased.
The 18 Bangladeshis killed are Shahidul Islam of Senbagh Upazila of Noakhali, Mamun Mia and Russell Molla of Muradnagar in Comilla, Md Helal Uddin of Noakhali, Sabuj Hossain of Laxmipur, Md Asif and Shafatul Islam of Maheshkhali in Cox's Bazar, Md Imam Hossain Roni of Gazipur, Kasbar Ruku Mian of Brahmanbaria. , Md. Nazrul Islam of Kowali of Jessore, Geas of Debidwar in Comilla, Ramur Md. Hossain of Cox's Bazar.
Also in this list are - Khairul Islam, Ruhul Amin, Tushar Majumder, Miraj Hossain, Shakib, Rana Mia.
Incidentally, while going to perform Umrah in Makkah last Monday, the bus collided with a bridge in the southern province of Asir in Aqaba and caught fire, killing 20 people and injuring 29 people. Several others died while undergoing treatment.