World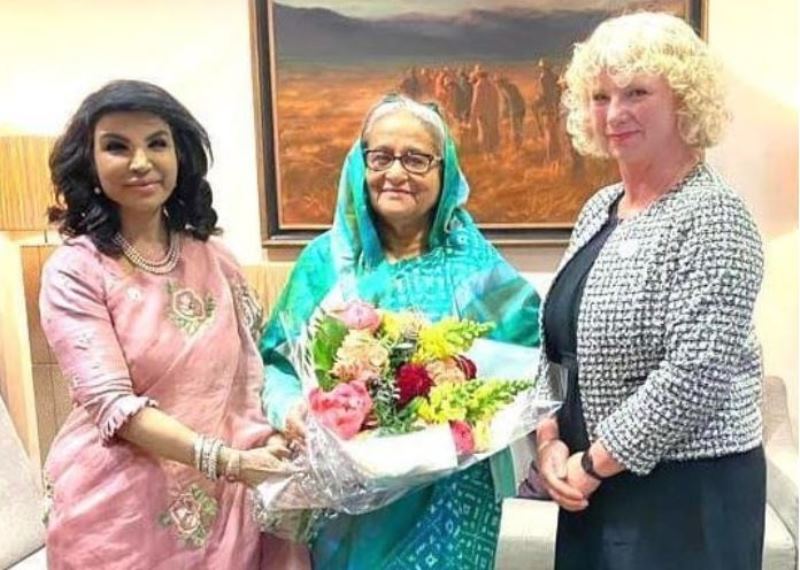 Photo: Collected
PM arrives in London to attend King Charles III's coronation
London, May 5: Prime Minister Sheikh Hasina arrived in London from Washington DC on Thursday night to attend the coronation of Charles III and his wife Camilla as King and Queen of the United Kingdom (UK) and other Commonwealth countries.
A United Airlines flight carrying the Prime Minister and her entourage landed at London's Heathrow International Airport on May 4 at 11:49 pm (local time). Earlier, the flight took off from Washington DC's Dulles International Airport around 11:30 am local time. Sheikh Rehana, the youngest daughter of the Father of the Nation Bangabandhu Sheikh Mujibur Rahman and the only sister of the Prime Minister, is with the Prime Minister. Bangladesh High Commissioner to UK Saida Muna Tasnim welcomed the Prime Minister at the airport. UK government representative Ambassador Alison Blackburn was present at the time.
During her stay in London, the Prime Minister will attend an event for Commonwealth leaders, an event organized by the University of Cambridge and a civic reception.
During her visit to the US, the Prime Minister attended an event marking 50 years of Bangladesh-World Bank partnership and held a round table meeting with US business leaders and several meetings with the incoming World Bank President and the Managing Director of the International Monetary Fund.
Earlier, he arrived in Washington DC on April 29 after completing a four-day official visit to Tokyo, Japan at the invitation of his Japanese counterpart Fumio Kishida.
On April 25, a special chartered VVIP flight (BG1403) of Biman Bangladesh Airlines carrying the Prime Minister and her entourage landed at Tokyo's Haneda International Airport at 4:45 pm (local time).
During his visit to Japan, he signed eight agreements on agriculture, metro rail, industrial upgrading, ship recycling, customs affairs, intellectual property, defense cooperation, ICT and cyber security cooperation.
The Prime Minister also held meetings with Aki Abe, wife of late former Japanese Prime Minister Shinzo Abe, and Japanese architect Tadao Ando. The Prime Minister is scheduled to return to Dhaka from London on May 9.