World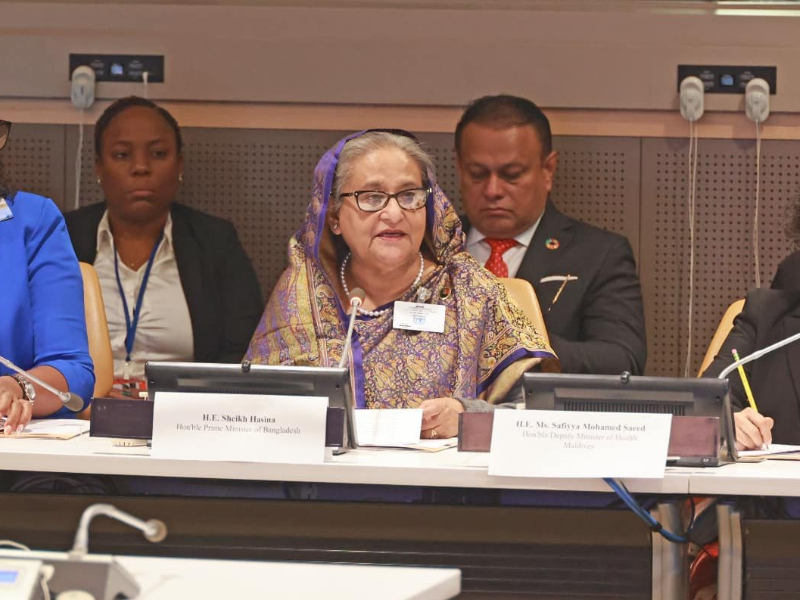 Photo: Collected
PM asks for global support in community healthcare
New York, Sept 20: Prime Minister Sheikh Hasina has said that community-based primary health care is the key to achieving universal health care. She called on development partners to support the efforts of developing countries to bring healthcare to all.
She said, "We call on our development partners, including multilateral funding agencies, to extend their support to community-clinic health services in the developing world."
She made the call at the plenary session of a high-level side-event titled 'Sheikh Hasina Initiative of Community Clinics: Innovative Approach Achieving Universal Health Coverage Inclusive of Mental Health and Disability' on the sidelines of the UNGA's 78th session at the UN headquarters in New York on Tuesday.
"We are encouraged by your presence as we take the oath this year to accelerate our collective work on sustainable development and universal health," the Prime Minister said.
"As an emerging voice of the Global South, Bangladesh will champion the issue as a potential avenue for meaningful international partnerships," she added.
Sheikh Hasina said, "From our side, Bangladesh is ready to exchange knowledge and expertise with interested parties. Health is the root of all happiness. We want to spread joy around through community clinics."
The Prime Minister said she was deeply grateful to the ministers and experts who expressed their sentiments and pledged their support at this time.
She added, "We hope that this side event will be another sign of our shared commitment to the health and well-being of all our people and communities."
Sheikh Hasina said, "They have realized that the re-opening of community clinics and their sustainability depends only on the local people who act as their owners and custodians. This figure shows why 90 percent of service seekers express their satisfaction with the community clinic."
She said, "In 2018, our Parliament passed the Community Clinic Health Support Trust Act. To facilitate its operations and funding procedures."
Prime Minister envisions five priorities for community clinics to deliver healthcare at the grassroots level.