World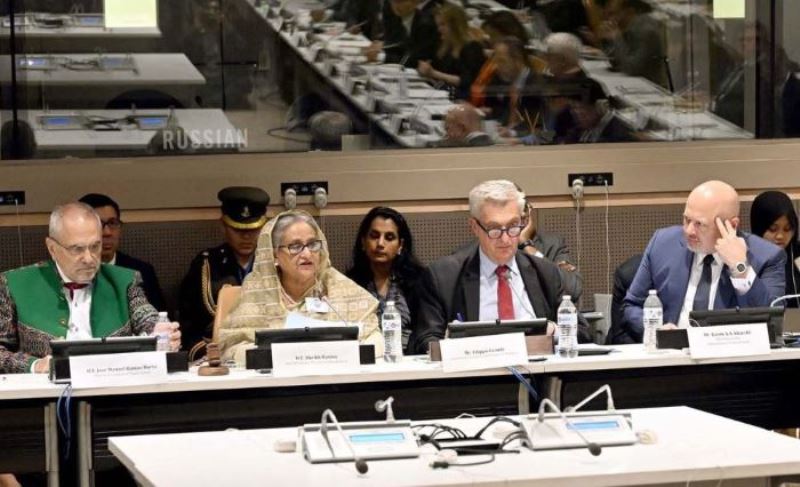 Photo: PID
PM calls on international community not to turn its attention away from Rohingya issue
New York, Sept 23: Drawing the attention of the world community to return the Rohingya refugees, Prime Minister Sheikh Hasina said that the attention of the world community should not turn away from this huge population.
She said, on the one hand, the financial support for the Rohingyas is decreasing, on the other hand, Bangladesh is concerned about the slow pace of their repatriation.
The Prime Minister called for the implementation of Security Council and General Assembly resolutions to ensure a sustainable solution to the Rohingya crisis as well as concerted efforts to repatriate the Rohingyas to their homeland Myanmar.
On the sidelines of the 78th session of the United Nations General Assembly, Bangladesh, Canada, Gambia, Malaysia, Turkey, the United Kingdom and the United States organized a high-level event on the Rohingya crisis at the United Nations headquarters on Thursday titled 'Have they forgotten us?' The event was moderated by Foreign Minister AK Abdul Momen.
Presenting four proposals to the global community for a permanent solution to the Rohingya crisis, he said, "We must multiply our collective efforts to ensure a permanent solution to the Rohingya problem arising from Myanmar, voluntary repatriation is the most effective option."
Sheikh Hasina said in her first and second proposals, "I appeal to the world community to resolve the issue and keep this issue at the top of their agenda besides continuing our humanitarian efforts to save the lives of these distressed and helpless people."
In a third proposal, she said, "Follow ongoing and conventional legal and multilateral processes to ensure the accountability of perpetrators of persistent, regularized and heinous atrocities against these ethnic minorities."
The Prime Minister said that they have gathered here today to once again remind the world of the enduring suffering of the Rohingya minority, which has witnessed the tragic expulsion of the Rohingya from Myanmar for the past six years.
She said, due to the burning of Rohingya houses and brutal killing of family members, about one million people fled to Bangladesh within a few months.
Since then we have been sheltering them on our soil and providing them with basic and humanitarian services. I thank all our partners and friends for their solidarity as well as humanitarian assistance. Noting that the issue has now reached a stalemate, she said not a single displaced Rohingya could return to their homes in Myanmar in the last six years.