World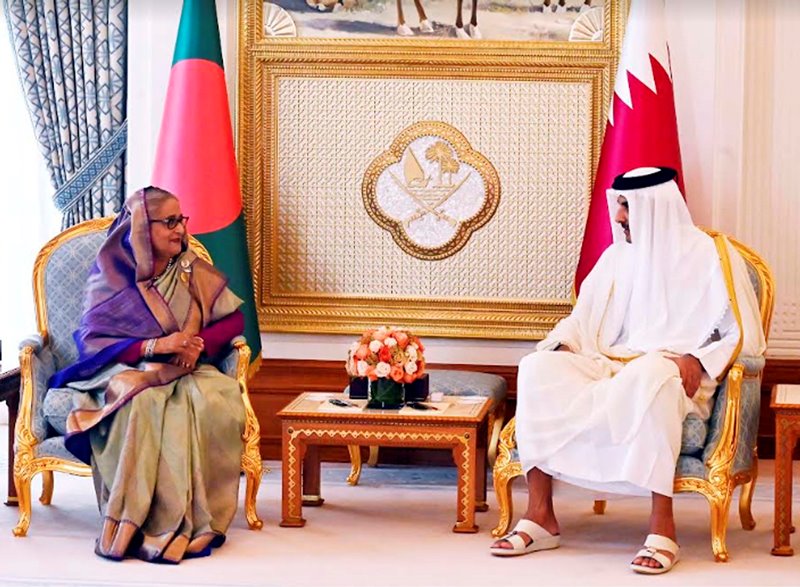 Photo: PID
PM meets Emir of Qatar, agreement on more fuel supply soon
Doha, May 25: Prime Minister Sheikh Hasina held a meeting with Emir Sheikh Tamim bin Hamad Al Thani of Qatar. Various issues of bilateral cooperation on energy, trade and investment and manpower and development of Bangladesh were discussed in the meeting. The meeting was held at Amiri Dewan in Qatar on Wednesday. After the meeting, Foreign Minister Dr. AK Abdul Momen briefed the journalists about this.
Stating that the meeting was held in a very warm and sincere atmosphere, the foreign minister said that the emir of Qatar said in the meeting about energy, that the negotiation of signing a new agreement on more energy supply to Bangladesh is going on. He promised that as a friendly country, Qatar would provide all kinds of support to Bangladesh.
Foreign Minister Abdul Momen said, Qatar Emir's promise is a big achievement for Bangladesh. A new contract may be signed soon. Bangladesh is currently importing 1.8 to 2.5 million metric tons of fuel from Qatar under a 15-year agreement in 2017. But Bangladesh wants more LNG from Qatar.
Appreciating Prime Minister Sheikh Hasina's leadership, the Emir of Qatar said, they once knew Bangladesh as a poor and poverty-stricken country. But after Sheikh Hasina came to power, she eliminated the food crisis in Bangladesh. In this context, Prime Minister Sheikh Hasina said that in the last 14 and a half years, her government has brought down the rate of poor people from 41 percent to 18.7 percent and the rate of extreme poverty from 25 percent to 5.6 percent. He said that the only goal of his life is to build a developed Bangladesh free from hunger and poverty.
The Prime Minister said, we have made progress in several areas. But my work is not finished. I want to work more. But I can't do it alone. Your cooperation is needed. We need more investment. She said Bangladesh is open for foreign investment. You can come up with investments for mutual benefit.
Prime Minister Sheikh Hasina invited the Emir of Qatar to visit Bangladesh this year. In response, Emir of Qatar Sheikh Tamim bin Hamad Al Thani said that he will definitely visit Bangladesh and it will be within this year.