World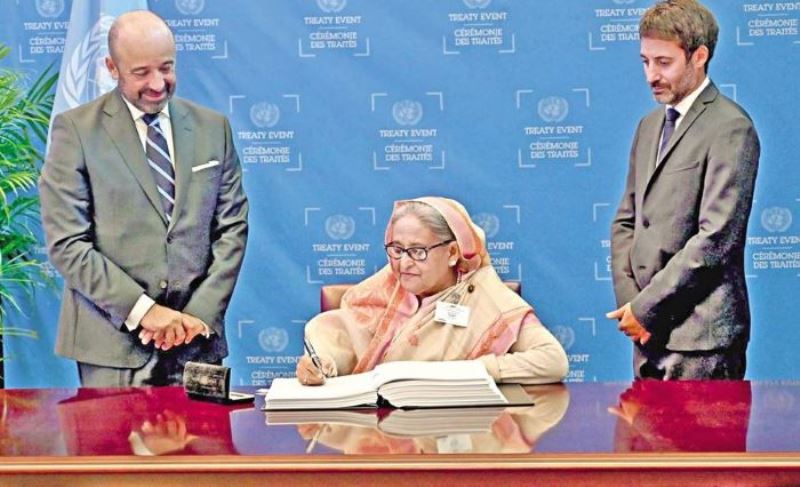 Photo: PID
PM signs BBNJ agreement to protect oceans and rivers
New York, Sept 22: Prime Minister Sheikh Hasina has signed the Marine Biodiversity of Areas Beyond National Jurisdiction (BBNJ) agreement to protect the world's oceans and rivers from damage to the fragile marine environment due to overfishing and other human activities.
The agreement was reached on Wednesday local time in the General Assembly Building on the ground floor of the treaty event area. The agreement was signed under the United Nations Convention on the Law of the Sea. Foreign Minister AK Abdul Momen said this during a press briefing about the Prime Minister's engagement on the sidelines of the 78th session of the United Nations General Assembly. The agreement deals with the management and conservation of genetic resources described as common heritage.
The foreign minister said he attended several bilateral meetings with Singapore's Foreign Minister Vivian Balakrishnan and Netherlands' Foreign Trade and Development Cooperation Minister Liege Schreinemacher and participated in several high-level events including the Breakfast Summit on Climate Dynamics and the 18th Asia Cooperation Dialogue.
Momen said, "Bangladesh has become a role model for other countries in dealing with the effects of climate change. Rich countries are largely responsible for carbon emissions. In this case, the contribution of developing countries is only 0.47 percent. The foreign minister called on rich countries to stick to their pledge of $100 billion a year to the climate fund."
"But unfortunately rich countries do not keep their promises," he added. "They should keep their promises. Bangladesh has received nominal funding from the Climate Fund to overcome climate change-related damage. The political commitment of rich countries is essential to comply with the commitments."
Climate Vulnerable Forum (CVF) Thematic Ambassador Saima Wazed was also present on the occasion.