World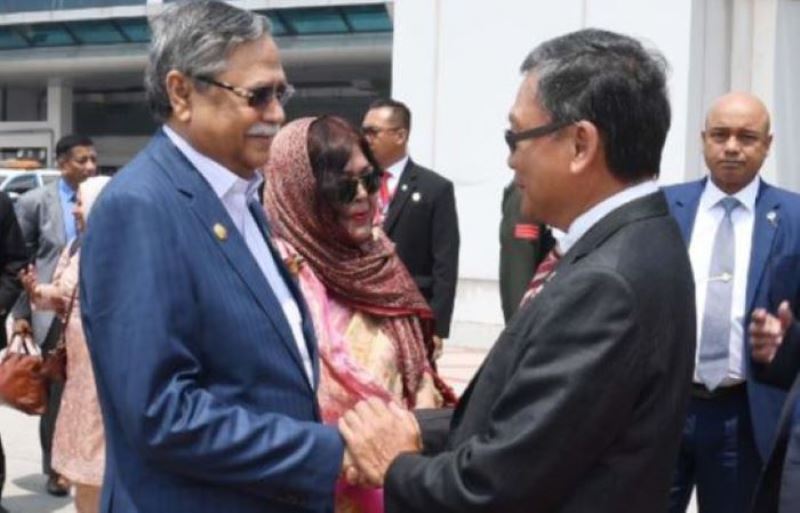 Photo: PID
President arrives in Singapore from Indonesia
Singapore, Sept 9: President Md. Shahabuddin arrived in Singapore on Friday afternoon at the end of his five-day visit to Indonesia. He earlier attended the 43rd Summit of the Association of Southeast Asian Nations (ASEAN) and the 18th East Asia Summit in Jakarta, the capital of Indonesia.
A Biman Bangladesh Airlines Limited VVIP flight (BG-1911) carrying the President and his wife Dr. Rebecca Sultana arrived at Singapore's Changi International Airport at 2:12 pm (Singapore time). Bangladesh High Commissioner Touhidul Islam and related senior officials of Bangladesh High Commission welcomed the President in Singapore. The Head of State and his wife will undergo a health check-up in Singapore.
Earlier at 11 am (Jakarta time) President Shahabuddin left Sukarno-Hatta International Airport, the capital of Indonesia. The President was seen off at the airport by Indonesian Minister of Energy and Mineral Resources Arifin Tasrif and senior officials of the Bangladesh Mission in Indonesia.
The President of Bangladesh arrived in Jakarta on September 4. He attended the three-day 43rd ASEAN Summit held on September 5-7, 2023 under the chairmanship of Indonesian President Joko Widodo.
President Shahabuddin and his wife Dr. Rebecca Sultana attended the opening ceremony of the conference on the morning of September 5. Bangladesh National Advisory Committee on Autism and Neurodevelopmental Disorders Chairperson Saima Wazed and Foreign Minister Dr AK Abdul Momen were also there with the President.
The opening ceremony of the 43rd ASEAN Summit was attended not only by the organizational leaders of the 10 ASEAN countries, but also by some world leaders, heads of state and government, and representatives of partner countries.
The ASEAN Secretary General said that the host country Indonesia has invited 27 world leaders and executive directors of international organizations, the International Monetary Fund (IMF) and the World Bank for the Jakarta ASEAN Summit.
The President also held two separate bilateral meetings with Indonesian President Joko Widodo and Indian Ocean Rim Association Secretary-General Dr Salman Al Farisi on September 6.
On the sidelines of the summit, the President of Bangladesh attended the 18th East Asia Summit (EAS) on September 7 and delivered a speech as an invited guest.
President Shahabuddin is scheduled to return to the country on September 16 after the health check-up.