World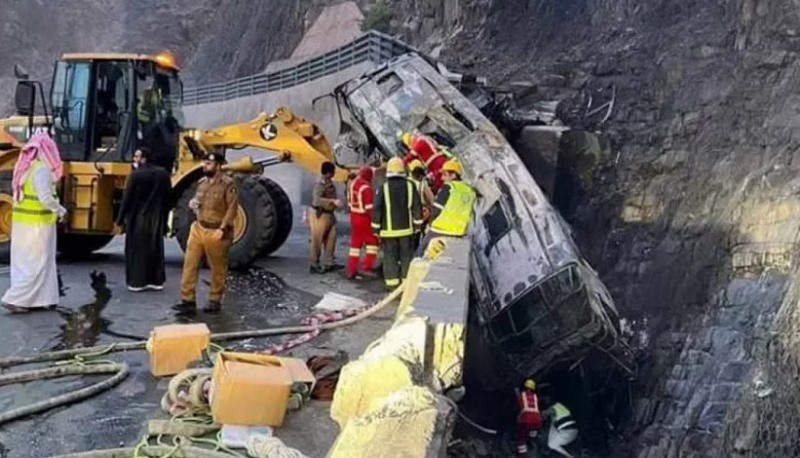 Photo: Collected
Road accident in Saudi Arabia: 13 of the 24 killed are Bangladeshis
Riyadh, March 29: Thirteen of the 24 Umrah pilgrims killed in a terrible road accident in the southern Asir province of Saudi Arabia were Bangladeshi nationals. Several other Bangladeshis are reported to have been injured in this incident. Bangladesh Embassy in the Saudi Arabian capital of Riyadh confirmed this information on Tuesday (March 28).
Earlier on Monday, March 27, local time in the afternoon, the bus carrying Umrah pilgrims lost control and collided with a bridge in Aqaba Shaar area of Asir province on the Yemen border. In this the bus overturned and at one stage it caught fire. It is known that the passengers of the bus were going to Makkah to perform Umrah. The bus overturned on a bridge and caught fire as its brakes failed.
Regarding the accident, the First Secretary (Labour) of Bangladesh Consulate in Jeddah, Saudi Arabia Md. Arifuzzaman told reporters that there were 47 passengers on the bus. Among them, the number of Bangladeshi passengers was 35 people and 17 of them are admitted in different hospitals with injuries. Apart from the 13 dead, five Bangladeshis are still missing.
Thirteen Bangladeshis killed in road accident have been identified as - Shahidul Islam of Senbag Upazila of Noakhali; Mamun Mia and Russell Mollah of Muradnagar, Comilla; Md. Helal of Noakhali; Sabuj Hossain of Lakshmipur; Md Asif and Mohammad Hossain of Cox's Bazar; Imam Hossain Roni of Tongi in Gazipur; Ruku Mia of Chandpur; Sifat Ullah of Cox's Bazar Maheshkhali, Ghiyas Hamid of Comilla, Mohammad Nazmul and Roni of Jessore.
The Bangladeshis under treatment are Salahuddin of Chittagong Sitakunda, Al Amin and Burhan Uddin of Bhola, Minhaj and Riaz of Laxmipur, Jewel of Kachua Chandpur, Afridi Molla and Mizanur Rahman of Magura, Mohammad Shahabuddin of Noakhali, Yar Hossain and Zahidul Islam of Comilla and Mosharraf Hossain of Jessore. Besides, Abdul Hai, Rana, Salim, Delwar Hossain, Hossain Ali and Qudds left the hospital after treatment.