World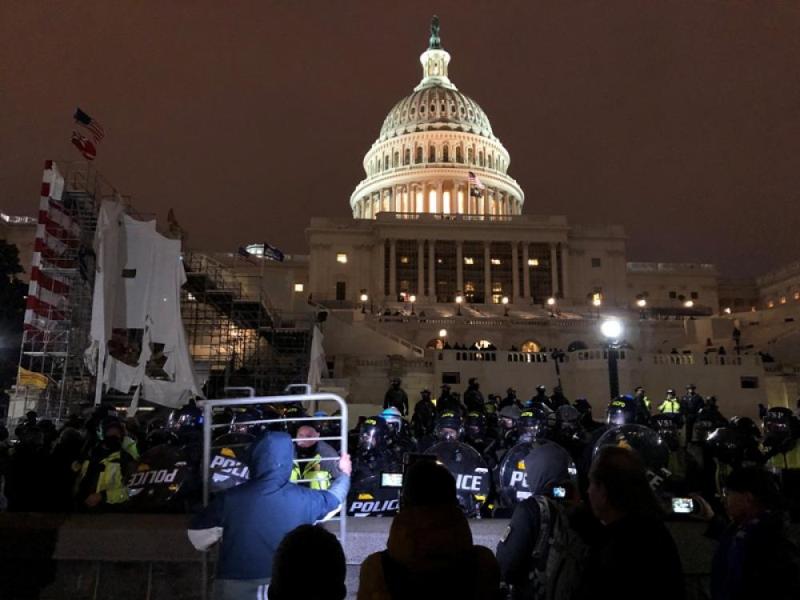 Tyler Merbler/Wikipedia
Security beefed up outside US Capitol ahead of Saturday's rally supporting Jan 6 rioters
Washington, DC, September 18: Law enforcement agencies have been put on high alert in Washington DC as the pro-Trump protesters are scheduled to hold a rally on Saturday at the United States Capitol in support of those arrested after the January 6 insurrection, local media reported citing officials.
The US media reported that Defense Secretary Lloyd Austin on Friday had approved 100 National Guard troops to aid Capitol Police to avoid the rerun of the January 6 mayhem.
According to an AFP report, the black fence that surrounded the Capitol premise for six months after the deadly insurrection has been put back up for the weekend along with surveillance cameras ahead of the 'Justice for J6' rally.
Sources in the Capitol police indicated that they had no intelligence input as of now about any specific plot associated with Saturday's rally.
"We are aware of a small number of recent online threats of violence referencing the planned rally, including online discussions encouraging violence the day before the rally," CNN reported citing a brief from the Department of Homeland Security (DHS) Office of Intelligence and Analysis.
AFP reported that government officials were expecting around 700 protesters while a counter-rally was scheduled to take place nearby.
Capitol police and other local as well as federal law enforcement agencies have taken multiple precautionary measures to avoid any untoward incident while Capitol Police chief Thomas Manger on Friday said that there have been 'some threats' of violence, according to a report by Bloomberg.
Earlier on Jan 6 this year, in an effort to disrupt and delay the Electoral College vote count, and to overturn Joe Biden's victory as the US President, thousands of Trump supporters, many associated with ultra-nationalist and white supremacist groups, stormed the Capitol building, the US legislature, following a major security breakdown.
According to reports, 642 people have been arrested and charged with crimes over the Capitol riot, and dozens have pleaded guilty.