World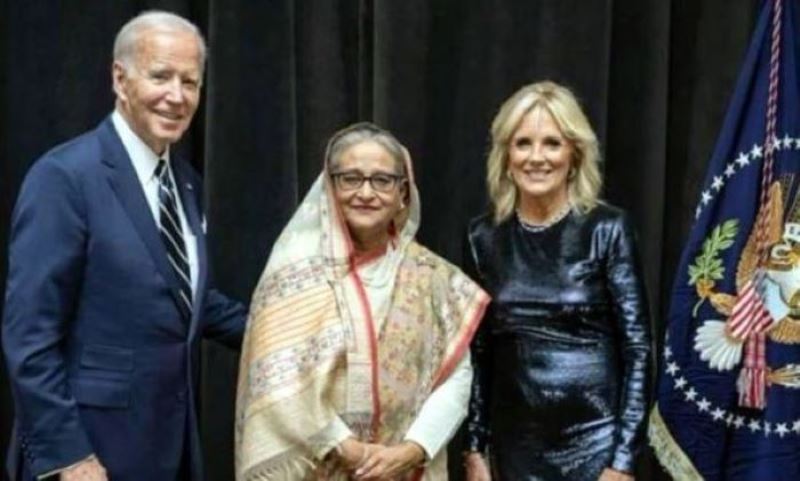 Photo: Collected
Sheikh Hasina attends Biden's reception
New York, Sept 21: Prime Minister Sheikh Hasina attended the reception organized by US President Joe Biden. Joe Biden hosted a banquet at the Metropolitan Museum of Art on Tuesday evening local time in honor of the heads of state and government of various countries who were in New York to participate in the 78th United Nations General Assembly session.
Foreign Minister Dr. AK Abdul Momen told reporters about the reception in a press briefing about the Prime Minister's busy schedule there. Prime Minister's daughter and Climate Vulnerable Forum (CVF) Thematic Ambassador Saima Wazed Putul was present on the occasion. At the banquet, the Prime Minister exchanged greetings with the Heads of State and Government of various countries.
To attend the 78th session of the United Nations General Assembly, the Prime Minister left Dhaka for the United States on Biman Bangladesh Airlines flight BG-201 (Golden Tari) last Sunday (September 17). Cabinet members, chiefs of three forces, secretaries and senior officials bid farewell to the Prime Minister at the airport.
After a four-hour layover at London's Heathrow Airport, the flight carrying the Prime Minister landed at the country's JF Kennedy Airport at 10:42 p.m. local time on Sunday (September 17). Bangladesh Ambassador and Permanent Representative to the United Nations Muhammad Abdul Muhith and Bangladesh Ambassador to the United States Muhammad Imran welcomed the Prime Minister at the airport.
On the second day of the visit, the Prime Minister delivered a keynote address at a high-level conference on 'Thinking Food - Collaborating to Accelerate SDGs in Food Supply Chain Innovation' organized by UNIDO and Deloitte at the Rockefeller Center in New York on 18 September.
This evening, the Prime Minister attended a high-level private dinner on the occasion of the UN 2023 Sustainable Development Goals (SDG) Summit hosted by the UN Secretary-General's Special Envoy for Global Education and WHO Envoy for Global Health Financing, Gordon Brown, and Sarah Brown, Executive Chair of the Global Business Coalition for Education, at the Lexington Venue in New York.
The Prime Minister attended the high-level general discussion on the first day of the 78th General Assembly session at the General Assembly Hall of the United Nations Headquarters on September 19. She addressed the high-level round table meeting titled 'Towards a Fair International Financial Architecture' organized by Spain and the European Council on the sidelines of the 78th session of the United Nations General Assembly in New York on Tuesday (September 19) local time.
The Prime Minister will address the General Assembly session on September 22 between 1 pm and 2 pm local time.