World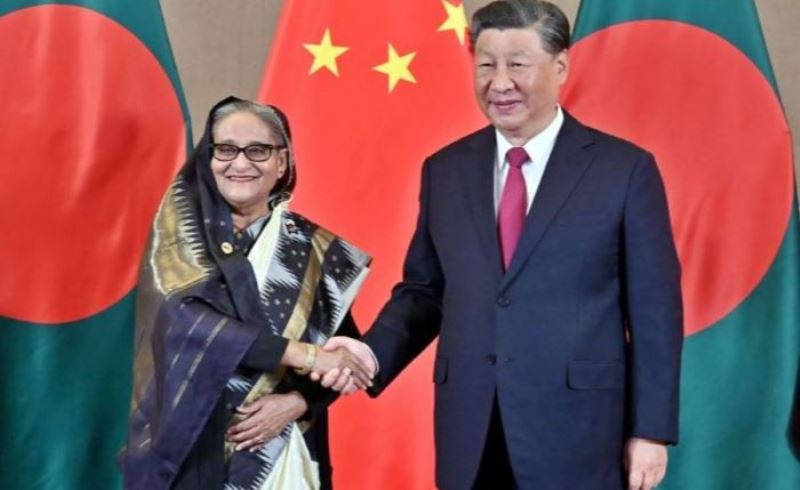 Photo: PID
Sheikh Hasina holds bilateral meeting with Chinese President
Johannesburg, August 24: Prime Minister Sheikh Hasina held a bilateral meeting with Chinese President Xi Jinping. The meeting took place at Hotel Sandton on the sidelines of the BRICS summit in Johannesburg, South Africa on Wednesday evening local time.
Foreign Minister AK Abdul Momen, Prime Minister's Adviser on Private Industry and Investment Salman F Rahman, Prime Minister's daughter and thematic ambassador of Climate Vulnerable Forum and Chairperson of National Advisory Committee on Autism and Neurodevelopmental Disorders Saima Wazed, Chief Secretary to Prime Minister Md. Tofazzal Hossain Mia and Ministry of Foreign Affairs' Senior Secretary Masood bin Momen were present that time.
After four long years, a bilateral meeting between Sheikh Hasina and Xi Jinping took place. And in the current geopolitical context, this meeting between China and Bangladesh is being considered as very important. Analysts believe that the meeting, which is under continued pressure from the West ahead of Bangladesh's national elections, can convey a special message.
The Prime Minister arrived in Johannesburg on Tuesday to attend the summit of BRICS, the five-nation alliance of Russia, China, India, Brazil and South Africa that controls a quarter of the world economy. She addressed the 'Bangladesh Trade and Business Summit' at the Radisson Blu Hotel and Convention Center in Johannesburg on Wednesday morning.
Bangladesh Securities and Exchange Commission (BSEC) and Bangladesh Investment Development Authority (BIDA) jointly organized the event. Later, Sheikh Hasina attended a conference organized with Bangladeshi ambassadors posted in African countries as the chief guest.
On Thursday, the Prime Minister will address the Friends of BRICS Leaders Dialogue (BRICS-Africa Outreach and BRICS Plus Dialogue) as a member of the New Development Bank with the participation of representatives of 70 countries. She is also scheduled to attend a meeting of expatriate Bangladeshis on the sidelines of the BRICS conference. Sheikh Hasina is scheduled to arrive in Dhaka on the morning of August 27 after a four-day visit.