World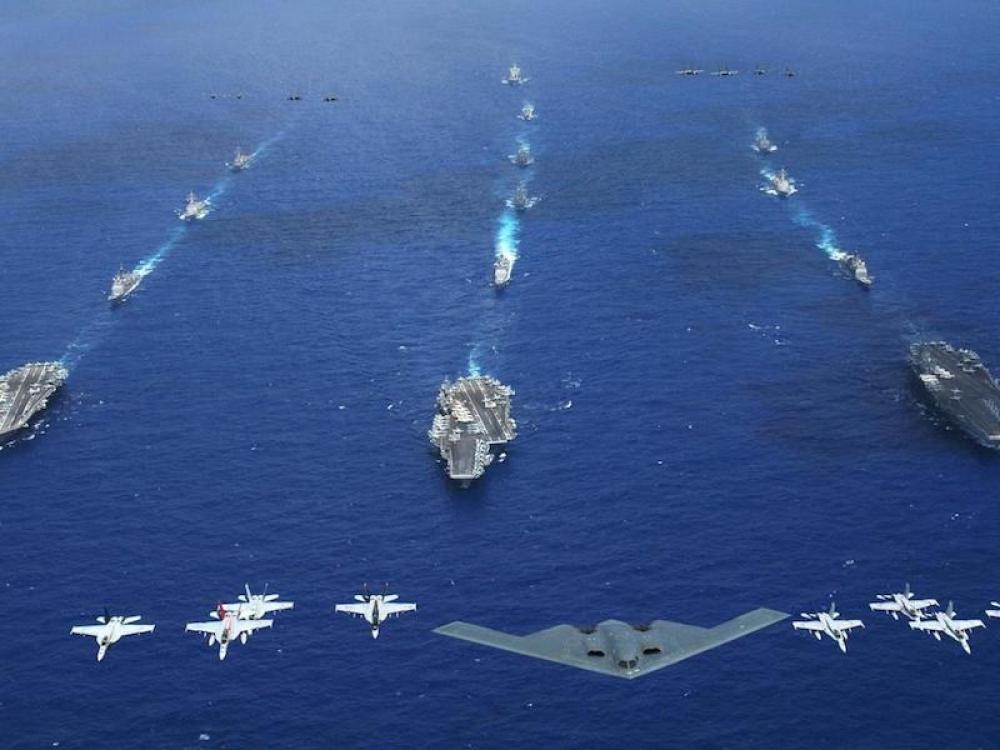 South China Sea: Malaysia rejects Beijing's claims
Kuala Lumpur: Malaysia has now rejected China's expansive maritime claims in the South China Sea region.
Beijing's territorial claim in the region has triggered tensions.
"Malaysia opposes China's claim that they have historic rights over those waters," Malaysian Foreign Minister Hishammuddin Hussein was quoted as saying by ANI to the Parliament in a rare public rebuke of its largest trading partner.
"The Malaysian government also considers China's claims over maritime features in the South China Sea to have no basis whatsoever under international law," he added while answering questions from Members of Parliament on the status of China's demands for territory in the South China Sea.
While the world calls out China for its role in the global transmission of COVID-19, the Asian giant is following an aggressive stance on South China Sea (SCS) region, earlier drawing protest from Vietnam which asked Beijing to maintain its sovereignty.
Taking advantage of the current scenario where nations are busy containing the deadly COVID-19, Beijing announced it is setting up two administrative units on islands in the South China Sea.
Defending the action, Chinese Foreign Ministry Spokesperson Geng Shuang said in a statement earlier: "Following the approval of the State Council, Sansha City of Hainan Province has established two districts, Xisha District and Nansha District.
"This is China making administrative division adjustment within the scope of its sovereignty. It is conducive to improving and enhancing Sansha City's administrative management and promoting the coordinated development of the city's economic growth and environment protection."
It said: "China has sovereignty over the Xisha and Nansha Islands and their adjacent waters, and sovereign rights and jurisdiction over the relevant waters and the seabed and subsoil thereof. In accordance with domestic laws and regulations, the Chinese government has selected and published the names of some islands and reefs of the Xisha and Nansha Islands as well as the seabed of waters under its jurisdiction.
"This is what we do regularly in accordance with law to improve marine management, which also accords with international law and international practices."
Shuang opposed Vietnam's remarks related to Chinese action in the region.
"China firmly opposes Vietnam's words and actions that undermine China's sovereignty and rights and interests in the South China Sea, and will continue to take necessary measures to firmly safeguard China's sovereignty and rights and interests," he said.
The Chinese official made the remarks after Vietnam lodged a formal protest over China's action on the SCS.
Vietnam's Foreign Ministry spokeswoman Le Thi Thu Hang said in a statement: "Vietnam has repeatedly strongly affirmed that Vietnam has sufficient historical evidence and legal grounds to assert sovereignty over the Paracel and Spratly Islands."
"Viet Nam's consistent stance is strongly opposed to the establishment of the so-called 'Tam Sa city' and related acts because of a serious violation of Vietnam's sovereignty, invalid and unreasonable. recognized, not conducive to friendly relations between nations and complicating the situation in the East Sea, the region and the world," the spokeswoman said.
"Vietnam asks China to respect Vietnam's sovereignty, to abolish wrong decisions related to those jobs and not to have similar jobs in the future," she said.