World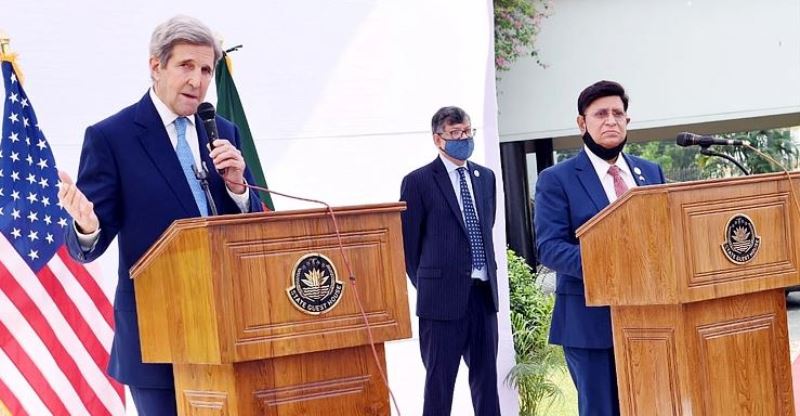 PID
The United States will continue to work to resolve the Rohingya crisis: John Kerry
Dhaka, April 10: US President Joe Biden's Special Envoy for Climate John Kerry has lauded Bangladesh for exemplary humanity in sheltering the Rohingya refugees and said the US will continue to work towards resolving the crisis.
"The example of humanity that Bangladesh has created by sheltering the Rohingya is commendable. The United States will always work to resolve this crisis. The Myanmar government is moving in a different direction on the Rohingya issue. The responsibility for the Rohingya is not just Bangladesh's, and the Joe Biden administration will continue to put pressure on Myanmar on this issue," he said.
He made the remarks at a joint press conference after a meeting with Foreign Minister Dr AK Abdul Momen at the state guest house Padma on Friday (April 9th).
"My visit today is to invite Bangladesh Prime Minister Sheikh Hasina to the upcoming climate conference. To build a livable world, the Biden administration has rejoined the Paris Agreement on Climate. We must build a livable world for future generations," Kerry said.
Kerry said the main purpose of the conference convened by the Biden administration on climate change was to work together to establish a green world.
"Bangladesh is a country affected by climate change. We are happy to see Bangladesh encouraged to attend the upcoming conference. We believe that by working together, we can ensure a livable world."
Earlier, John Kerry had a meeting with Dr. AK Abdul Momen.
They met at a bilateral meeting at the state guest house Padma in Dhaka around 2pm on Friday.
State Minister for Foreign Affairs Shahriar Alam, Foreign Secretary Masood bin Momen, US Ambassador to Dhaka Earl Robert Miller and other senior officials of the two countries were present on the occasion.
He arrived at Hazrat Shahjalal International Airport at 11:30 am on Friday.
He came to Dhaka to invite Prime Minister Sheikh Hasina to the World Climate Conference, which starts on April 22. The conference will be held virtually with the participation of heads of state or government of 40 countries.
Bangladesh is one of the countries affected by climate change. Bangladesh is currently the chairman of the Climate Vulnerable Forum.