World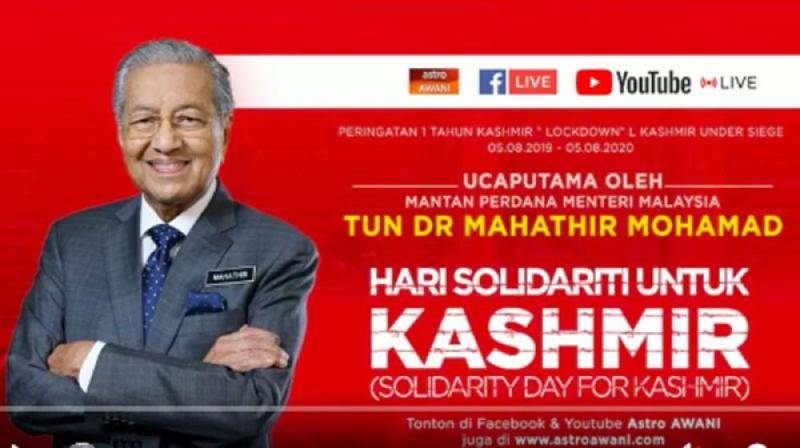 Twitter users slam former Malaysian PM Mahathir Mohamad over Kashmir remark
Dhaka, August 11: Former Malaysian Prime Minister Mahathir Mohamad's remarks on the scrapping of Article 370 in Kashmir has earned flak from the Twitter users as he chose to keep silent on the inhuman treatment of the Uighur Muslims in China while attacking India which has fast-tracked development process in the Kashmir region after doing away with the stumbling block that was this temporary provision.
"Now that Iam no more the Prime Minister, I take it that I can now speak without restrain and address the Kashmir issue without threats of boycotts and such. AT THE 'KASHMIR'S ONE YEAR LOCKDOWN SINCE 5TH AUGUST 2019 KUALA LUMPUR," he had tweeted on the first anniversary of the scrapping of the Article 370 in Kashmir.
In his later tweet, he said, "I offer no apology for what I had said though I am sorry that it had affected our palm oil export to India. I don't know if that is a high price to pay for speaking out against such injustices."
One Twitter user slammed him for not speaking about the trouble of Uyghur Muslims.
Twitter user Jay said: "You don't have guts to speak about uighur muslim, u don't have guts speak what is happening in Balochistan..you don't have guts to speak about terrorism in Pakistan. Yes you are also part of it. [Sic]"
Another Chinmaya tweeted: "Hello oldman, #Kashmir is not a issue, whole Jammu kashmir is an integral part of india including Gilgit and pok. [Sic]"
A user Barney said: " Uighurs are not muslims. Thats it thats the tweet. [Sic]"
Kashmir observed the scrapping of Article 370 on Wednesday.
The scrapping of Article 370 in Jammu and Kashmir last year by the Centre is seen by the locals in Kashmir as a path towards development as they feel the number of stone-pelting incidents in the region have drastically come down in nearly a year and development process picked up.
On Aug 5 last year, the Narendra Modi-led government in India scrapped Article 370 and 35A that used to accord a special status to the state.
The state of Jammu and Kashmir was acceded to India through the instrument of accession in 1947, under which special status was granted by New Delhi to Jammu and Kashmir, under Article 370.
Article 370 had allowed Jammu and Kashmir to have its own constitution, flag and right to handle its own laws except on matters that impact national security, but it also beacme an obstacle to development in the region wracked by terrorism sponsored by Pakistan and the rule of political oligarchy.
Islamic terrorism also saw the exodus of the Hindu Kashmiri Pandit community from the Valley in 1989-90.
The Modi government also bifurcated Jammu and Kashmir state into two union territories- Jammu and Kashmir with an assembly and Ladakh without an assembly.
The Modi government also scrapped Article 35A, which had allowed the Jammu and Kashmir state's legislature to define "permanent residents" of the state and also provided special rights and privileges to those permanent residents.