World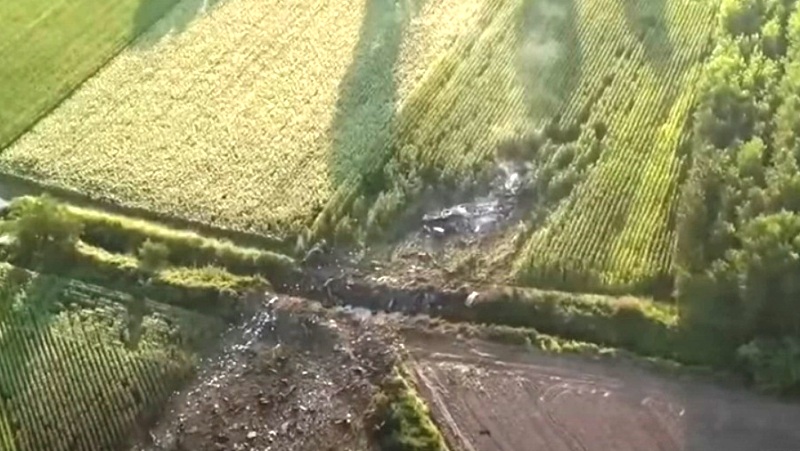 Photo: Collected
Ukrainian cargo plane en route to Bangladesh crashes in Greece
Athens, July 18: A Ukrainian cargo plane en route from Serbia to Bangladesh has crashed in northeastern Greece. The Bangladesh Embassy in the Greek capital of Athens is keeping an eye on the incident. No one is allowed to go to the crash site to facilitate the rescue work. Moreover, the accident site is far from Athens.
Asud Ahmed, the ambassador of Bangladesh appointed in Athens, said that the cargo plane was scheduled to go from Serbia to Riyadh, Saudi Arabia. From there it was scheduled to reach Dhaka via Ahmedabad, India. But unfortunately it crashed in northeastern Greece, leaving all eight crew on board dead.
The Bangladesh Embassy in Italy is supposed to have information about the Ukrainian cargo plane coming from Serbia to Bangladesh, because the Bangladesh Embassy in Rome is responsible for taking care of matters in Serbia, and the aircraft crashed in Greece via Serbia. Ambassador Asud Ahmed said ​​no communication has been made from Bangladesh Embassy in Italy yet, but they are following the developments, keeping in touch and trying to get updates.
Meanwhile, the Directorate of Inter-Services Public Relations (ISPR) said that the training mortar shells purchased for the Bangladesh Army and Border Guard Bangladesh were being brought from Serbia through the contracting company commissioned under the DGDP (Directorate General of Defense Purchase) procurement contract. There were no weapons in the consignment and the consignment was covered by insurance.
Drone footage of the crash site shows the Antonov An-12 cargo plane crashing into a field in a remote area of Kavala, Greece. Greek authorities said there were a total of eight crew on board the plane. A spokesman for the Ministry of Foreign Affairs of Ukraine said that all eight crew members were Ukrainian citizens.
Serbia's defense minister said the aircraft was transporting 11.5 tons of weapons made in Serbia's defence factory, and the buyer of these products was the Ministry of Defense of Bangladesh. He said, all the crew members of the plane have died.
Greek authorities could not provide details about the crashed cargo plane. However, the country has deployed special disaster response forces and military experts at the crash site to investigate the plane crash.
Serbian Defense Minister Nebojsa Stefanovic said the crashed cargo plane contained mortar shells and training shells. He said, the plane was transporting 11.5 tons of weapons made by their defense ministry.
Serbia's state-run television channel ERT said the plane lost radar contact shortly after the pilot requested permission for an emergency landing from Greece's aviation authorities due to a mechanical fault.