World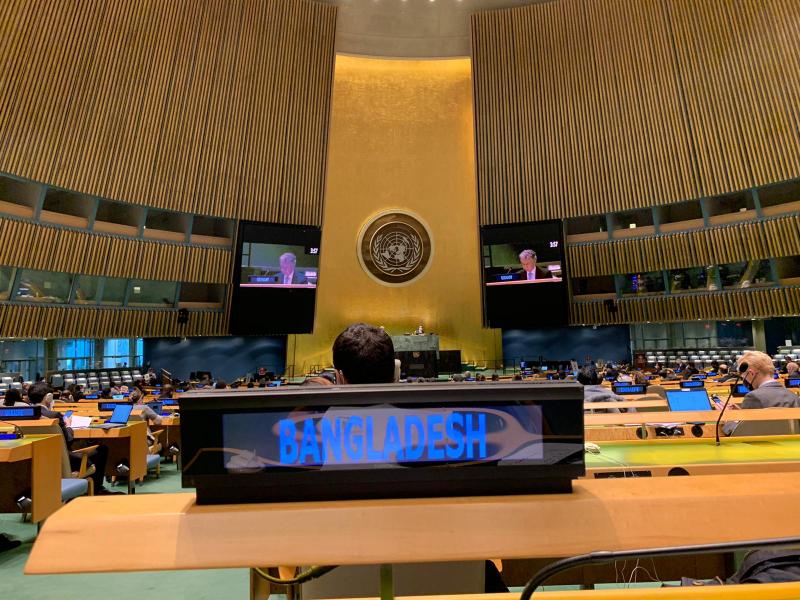 File Picture
UN adopts resolution to resolve Rohingya crisis
Dhaka, November 19: A resolution was adopted for the fourth time by a large majority in the Third Committee of the UN General Assembly with the aim of resolving the Rohingya crisis urgently.
Ambassador Rabab Fatima, Permanent Representative of Bangladesh to the United Nations, thanked the international community for its continued support to the UN resolution on the human rights situation of Myanmar's Rohingya Muslims and other minorities.
A press release issued in Dhaka today quoted Ambassador Fatima as saying that the resolution was adopted for the fourth time by a huge vote on November 18 in the Third Committee of the UN General Assembly.
Fatima said, "As a country sheltering more than one million displaced Rohingyas, Bangladesh continues to seek a peaceful solution to this crisis, which is rooted in the safe and dignified return of displaced Rohingyas."
The proposal will reinforce Bangladeshi Prime Minister Sheikh Hasina's call for an urgent solution to the Rohingya crisis, whose root lies entirely in Myanmar.
The ambassador said the OIC and the European Union jointly put forward the proposal with the support of 104 countries. It is a manifestation of the strong, united and unwavering support of a large number of UN member states for the Rohingya Muslim and minority communities, victims of other forms of violence, including human rights abuses in Myanmar.
132 countries voted in favor of the proposal, 9 against and 31 abstained. In addition to the European Union and OIC member states, the proposal has the support and co-sponsorship of a significant number of inter-regional alliances, including the United States, Canada, Mexico, Argentina, Australia, New Zealand, and Switzerland.
He said the proposal raises new issues, such as the interim order of the International Court of Justice, the start of an investigation by the International Criminal Court and the continued deprivation of the Rohingya and other minorities in Myanmar's national elections.
The resolution also called on Myanmar to take action on specific issues.
The issues are finding out the root causes of the problem, including granting citizenship to Rohingyas, ensuring safe and sustainable repatriation of Rohingyas by creating a conducive environment for their return, and ensuring accountability of those responsible for crimes against Rohingyas as a measure of confidence in return.