World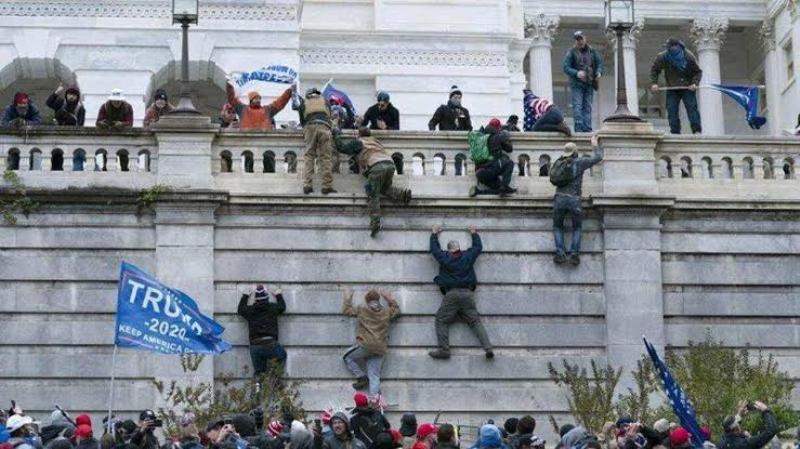 twitter.com/allindiamemes
US Capitol: Four die during protests by Trump supporters, over 50 detained
Dhaka, January 7: At least four people died on Wednesday as supporters of outgoing President Donald Trump stormed into the iconic Capitol building and created chaos over his defeat in the polls.
"One Capitol police officer discharged their service weapon striking an adult female. She was transported to a local hospital, where after all life-saving efforts failed, she was pronounced deceased …. Additionally, there were three other deaths reported today from the area around the Capitol grounds. One adult female and two adult males appeared to have suffered from separate medical emergencies which resulted in their deaths," Contee said at a press conference.
More than 50 people have been detained in the course of violent protests at the US Capitol on Wednesday, claimed police.
Shortly after 1 p.m. ET Wednesday hundreds of pro-Trump protesters pushed through barriers set up along the perimeter of the Capitol, where they tussled with officers in full riot gear, some calling the officers "traitors" for doing their jobs, CNN reported.
Vice President Mike Pence was evacuated from his chamber.
An armed standoff took place at the House front door as of 3 pm ET, and police officers had their guns drawn at anyone who was trying to breach it. A Trump supporter was also pictured standing at the Senate dais earlier in the afternoon.
Multiple officers have been injured with at least one transported to the hospital, multiple sources told CNN.
Smoke grenades were used on the Senate side of the Capitol, as police worked to clear the building of the rioters.
Following the incident, Trump tweeted, "I am asking for everyone at the U.S. Capitol to remain peaceful. No violence! Remember, WE are the Party of Law & Order – respect the Law and our great men and women in Blue. Thank you!"
US President-elect Joe Biden tweeted, "Today is a reminder, a painful one, that democracy is fragile. To preserve it requires people of good will, leaders with the courage to stand up, who are devoted not to pursuit of power and personal interest at any cost, but to the common good."
Vice President-elect Kamala Harris tweeted, "I join President-elect Joe Biden in calling for the assault on the Capitol and our nation's public servants to end, and as he said, "allow the work of democracy to go forward."