World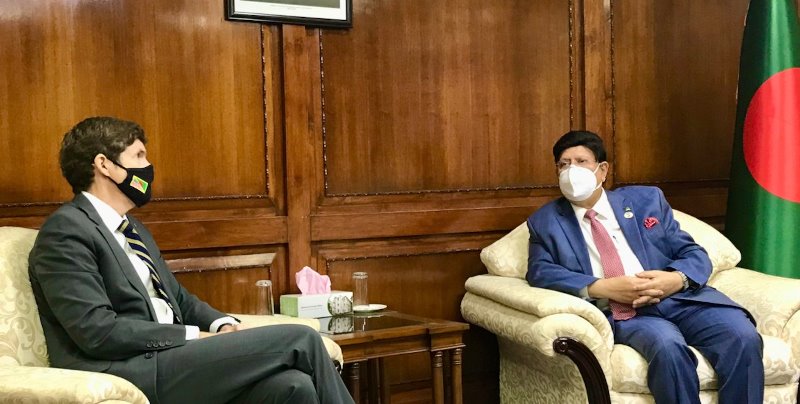 twitter.com/USAmbBangladesh
US keen to give 4 million doses of coronavirus vaccine to Bangladesh: Ambassador Miller
Dhaka, May 7: The Bangladesh government has requested the United States to provide 4 million doses of Oxford-AstraZeneca coronavirus vaccine to overcome the crisis and meet urgent needs. In response to the request, Earl Robert Miller, the US ambassador to Dhaka, said his country was working hard to fulfill the wish.
Miller made the remarks during a meeting with Foreign Minister AK Abdul Momen on Thursday (May 6). Later, the foreign minister answered various questions of the journalists about the meeting.
"We have written to the United States urgently asking for 4 million vaccines, so that we can give the second dose to those who are yet to be vaccinated," Momen said.
"We know they have about 60 million vaccines. We have urgently asked them so to complete the second dose in our country. We have asked for 10 to 20 million doses," he said.
The mass vaccination program started in Bangladesh last February with the Oxford-AstraZeneca vaccine. However, after two shipments, the vaccine could no longer be provided by the manufacturer, the Serum Institute of India. The government has postponed the first dose of the new vaccine due to supply cuts.
Sources said that with the vaccine now in stock, it will not be possible to give a second dose to everyone who takes the first dose. In such a situation, the government has started joint efforts to get vaccines from China and Russia. However, for those who have taken the Oxford-AstraZeneca vaccine as the first dose, there is no alternative to that vaccine.
Meanwhile, the United States announced late last month that it would send 60 million doses of the Oxford-AstraZeneca vaccine to various countries in the next few weeks.
Due to the crisis, Bangladesh is now seeking some vaccines from there. Asked if the promise of vaccination was met, the foreign minister said, "The ambassador said the exact date cannot be given. But they are working sincerely. We have said that when you send vaccines to India or any other country, give it to us first, as we need it urgently."