World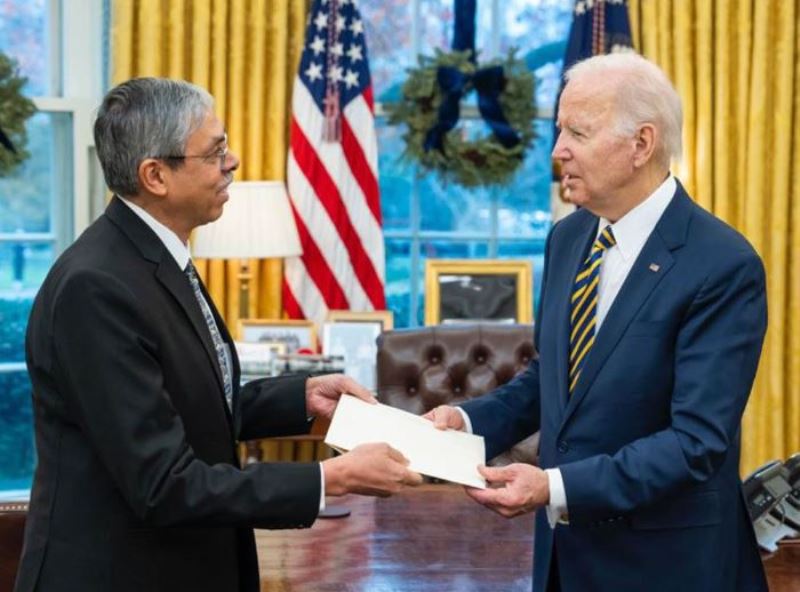 Photo: PID
US wants permanent partnership with Bangladesh
Washington, D.C., January 9: US President Joe Biden said that his country values its permanent partnership with Bangladesh. He called Bangladesh's economic growth in 50 years a 'remarkable phenomenon'.
He said this while accepting the credentials of the newly appointed Ambassador of Bangladesh to the United States, Muhammad Imran, at the White House in Washington DC. On the occasion of the celebration of the 50th anniversary of US-Bangladesh relations in 2022, Biden welcomed their enduring partnership with Dhaka.
While formally presenting the credentials to the US President, Ambassador Imran greeted him with the greetings of President Md. Abdul Hamid and Prime Minister Sheikh Hasina. Biden told Ambassador Imran that Bangladesh has emerged as an important partner in international trade and investment, climate change, humanitarian, refugee, UN peacekeeping, counter-terrorism, maritime and other security issues.
The US president said Bangladesh has expanded its largely agrarian economy into a regional economic powerhouse, poised to become a major participant in the global supply chain.
He said, "I hope our countries will continue to work on democratic governance, climate change, refugees, and maritime security. We are investing in your success and support the ability of all Bangladeshis to freely participate and contribute to the development of their country."
Praising Bangladesh's generosity in providing shelter to nearly 10 lakh Rohingyas, the US President said they will continue to support Bangladesh in helping these refugees and their host communities and protecting their rights.
He said the United States is committed to finding durable and effective solutions to this humanitarian crisis.
Regarding the Covid-19 pandemic, the US President mentioned that the United States is proud to partner with Bangladesh to combat the global pandemic under the Covid-19 Global Action Plan.
"We are committed to expanding our growing partnership in the months and years ahead," Biden said.
Welcoming the new ambassador of Bangladesh to the United States, Biden said his administration is keen to work with the ambassador to expand bilateral relations between the two countries.
Ambassador Imran was the first among a group of 10 ambassadors to present credentials. After returning from the White House, Ambassador Imran paid deep respect to Father of the Nation Bangabandhu Sheikh Mujibur Rahman by placing a wreath at the portrait of Bangabandhu at the Bangladesh Embassy.