World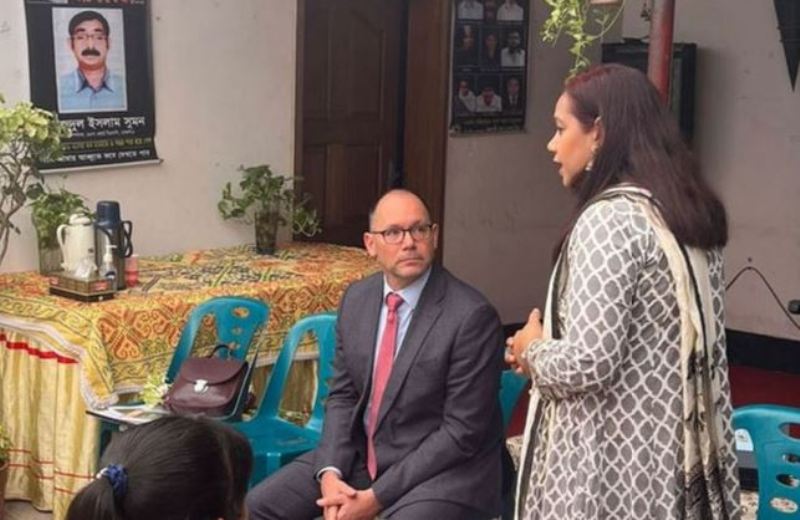 Collected
USA expresses concern over the incident of Ambassador Peter Haas
Dhaka, December 19: The United States has expressed concern at the highest level of the Bangladesh government about the incident that happened with Ambassador Peter Haas in Dhaka. Deputy Spokesperson Vedant Patel gave this information in a question-and-answer session at the regular briefing of the US State Department on Wednesday local time in Washington. Details of the briefing are available on the US State Department website.
In the briefing, a journalist named Mushfiqul Fazal asked a question and said that Peter Haas, the ambassador assigned to Bangladesh, went to the house of the victim Sajedul Islam this morning (Wednesday) and was obstructed by the government supporters. Then he quickly went to the Ministry of Foreign Affairs and met with the Minister of Foreign Affairs and expressed his concern.
This is the second attack (on ambassadors). The first attack was on Ambassador Marsha Barnicutt. Supporters of the same government carried out the attack on August 6, 2018. What is your opinion on this? How does a country like the US engage in social activism and how does the government deal with harassment of supporters?
In response, Patel said, "The United States is committed to taking actions consistent with its values and respects human rights as a prerequisite for global peace, security and prosperity. We have raised the issue of human rights in meetings with Bangladeshi officials as a key issue in our bilateral relations. In addition, freedom of the media, civil society The issues of opportunity to speak and free and fair elections were also raised."
Regarding the incident of Peter Haas, the US State Department spokesperson said, "Due to security concerns, the US ambassador and embassy officials ended a meeting early. We have conveyed our concerns to the highest levels of the Bangladesh government."
Meanwhile, the Biden administration has called the ambassador of Bangladesh in Washington and expressed concern about the security of the US ambassador in Dhaka, Peter Haas. Donald Lu, the country's Minister of State for Central and South Asian Affairs, discussed the matter with Mohammad Imran at the US State Department last Thursday.