World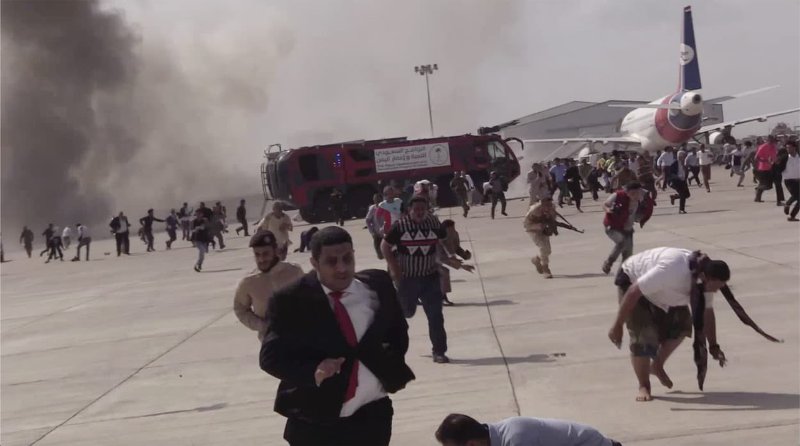 twitter.com/TelanganaMaata
Yemen airport blast kills 22, at least 50 injured
Dhaka, December 31: The death toll in the Aden Airport blast in Yemen on Wednesday rose to 22 while dozens sustained injuries.
The blast took place moments after a plane landed carrying the newly formed Saudi-backed cabinet.
Prime Minister Maeen Abdulmalik said all members of the cabinet were "fine".
According to reports, a second explosion was heard around Maasheq presidential palace, where the ministers and the Saudi ambassador to Yemen, Mohammad Said al-Jaber, had been taken to safety.
Officials said 50 people were wounded.
No group has claimed responsibility for carrying out the attack while the Houthis denied involvement.
"We and the members of the government are in the temporary capital of Aden and everyone is fine," Maeen tweeted from Maasheq palace. "The cowardly terrorist act that targeted Aden airport is part of the war that is being waged against the Yemeni state and its great people."
Southern Transitional Council (STC), a separatist group seeking independence for south Yemen, declared self-rule in Aden in April. The move triggered clashes and complicated efforts by the United Nations to forge a permanent ceasefire in the overall conflict.
The STC accused Houthis while condemning the attack.
"The attacks were timed with the arrival of new Yemeni government officials and once again demonstrate the malicious intent of those trying to destabilize Yemen," U.S. State Department spokesman Cale Brown said in a statement, adding that such attacks would not stop peace efforts.
UN Yemen envoy Martin Griffiths and several Arab countries also condemned the attack.
"I wish the cabinet strength in facing the difficult tasks ahead," Griffiths said. "This unacceptable act of violence is a tragic reminder of the importance of bringing Yemen urgently back on the path towards peace."