English Version
Bangladesh Time
South-asia
JKLF planning to march towards LoC, conducts online polls
Bangladesh Live News | @banglalivenews | 17 Aug 2019
Islamabad, Aug 16: While the Kashmir cauldron boils after the Indian government scrapped Article 370, Jammu Kashmir Liberation Front (JKLF), the political separatist group active in both sides of Kashmir, is planning to march towards the Line of Control between Aug 18 to 20, sources said.
Campaigns are reportedly going on in the social media in Pakistan Occupied Kashmir (PoK) promoting the action.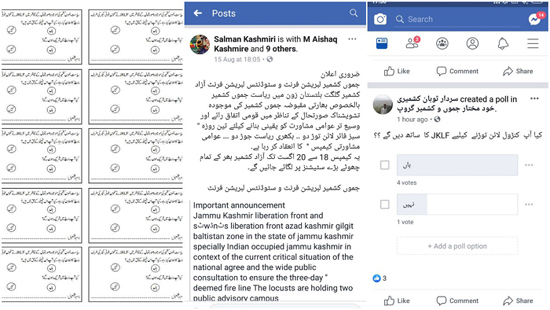 Polls are being run online where a question has been asked: "Will you support JKLF in breaking the LoC?"
Even, the question has been printed on paper and distributed in PoK to reach to even offline audience, sources said.
The events are happening days after the Indian government scrapped the Article 370 which granted special status to Jammu and Kashmir.
Meanwhile, Times Now reported that terror outfits in Pakistan occupied Kashmir (PoK), regrouped with an aim to launch 'jihad' against India.
The Pakistani authorities are actively encouraging terror groups like Hizbul Mujahideen and United Jihad Council (UJC), headed by Syed Salahudeen to target India after the revocation of Article 370 and Article 35A, reported the news channel.
Khalid Saifulla, and Naib Ameer of Hizbul Mujahideen along with former terrorists on Thursday reportedly participated in an anti-India protest outside the Press Club in Muzaffarabad.
They reportedly gave a call to wage 'jihad' against India.
Supporters of the Hizbul Mujahideen were among more than 1,000 people who marched through Muzaffarabad, capital of PoK, holding black flags and shouting anti-India slogans, The Telegraph reported.
"As long as India continues its occupation of Kashmir, we will fight within the occupied territory, with full force," Hizb deputy commander Saifullah Khalid was quoted as saying by the newspaper telling the crowd.
At UNSC:
India on Friday said there was an effort to masquerade national statements by two countries [read Pakistan and China] as the will of international community in respect to the removal of Article 370 in the Indian state of Jammu and Kashmir, but the national position of India remains that the move in Kashmir is an internal issue with no external ramifications.
Soon after the United Nations Security Council (UNSC) closed door meeting on Kashmir, Syed Akbaruddin, India's Ambassador and Permanent Representative to the United Nations, told a news conference at the UN: "Our national position was and remains that the matters related to Article 370 are entirely an internal matter of India. These have no external ramifications."