English Version
Bangladesh Time
South-asia
Imran Khan's Muzaffarabad rally in POK to counter India was a flop show: Reports
Bangladesh Live News | @banglalivenews | 14 Sep 2019
Islamabad, Sept 14: Amid a raging war of words and diplomacy with India over its Kashmir move, Pakistan Prime Minister Imran Khan's rally in POK was reportedly a flop show with residents of the Pakistan-occupied Kashmir (PoK) abstaining from it in Muzaffarabad on Friday.
Khan, who is still unable to garner support from a single nation against India over the Kashmir issue, made a desperate attempt to catch the limelight over the matter by holding a "big jalsa" in the Pakistan-occupied Kashmir (PoK) a day ago.
As locals of PoK boycotted the rally, people were brought from Abbottabad and Rawalpindi to attend Imran Khan's show, sources said.
The rally remained empty.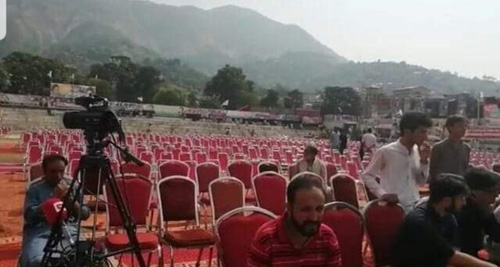 According to sources, the people who were brought to attend the rally were mostly army sepoys who are deployed at regiment stations in Abbottabad and Rawalpindi.
Following this debacle, Chief Secretary of PoK was summoned by authorities at the General Headquarters and he might be changed, sources said.
Incidentally, people of PoK have been facing atrocities committed by the Pakistan government in the region.
PoK activist Amjad Ayub Mirza tweeted: "Imran Khan's Muzaffarabad rally has been a flop show."
More embarrassment for Imran Khan:
In a major embarrassment, Pakistan Interior Minister Brig Ijaz Ahmed Shah on Thursday said the international community believes India but not his own country over the Kashmir issue.
Taking on his Prime Minister, Shah blamed the "ruling elite" including Khan for tarnishing Pakistan's image.
While Pakistan is trying to project an image of Kashmiris suffering under the Narendra Modi government, Khan's own party colleague Baldev Kumar sought asylum in India.
Kumar, a Pakistan Tehreek-e-Insaf (PTI) member, has alleged that the minorities are being targeted in Khan's "Naya Pakistan" days after a Sikh girl was abducted, converted and forcefully married to a Muslim man in Pakistan's Punjab.