Bangladesh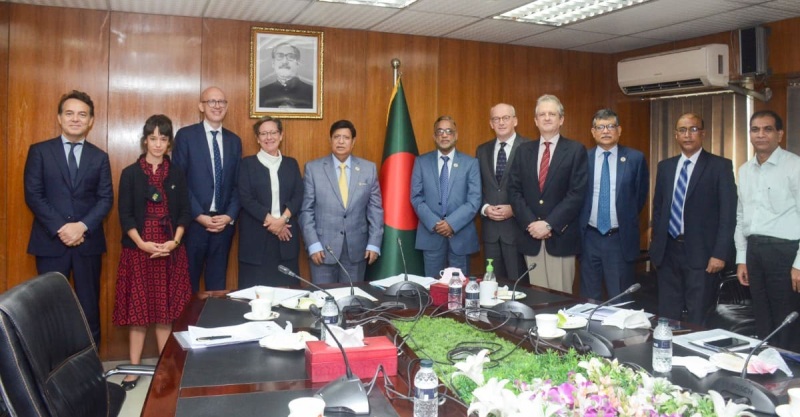 Collected
Bangladesh wants EU's help to achieve COP-26 goal
Dhaka, October 18: The COP-26 climate change summit is set to begin in Glasgow on the last day of this month. At the upcoming conference, Bangladesh will raise a number of issues to achieve its goals on climate issues. Bangladesh has sought the cooperation of the European Union (EU) to make them successful.
On Sunday (October 17), a meeting was held at the Ministry of Foreign Affairs with the ambassadors of various EU countries to Bangladesh regarding the upcoming COP-26 conference. After the meeting, Foreign Minister Dr AK Abdul Momen and Environment, Forests and Climate Change Minister Shahab Uddin briefed the media.
Dr Momen said: "We have sought the cooperation of the EU so that we can achieve our goals in COP-26. The main reason for our meeting with the European Union is we want their cooperation; Their partnership. So that the issues that we will raise in COP-26, they should unite with us and speak for us. COP-26 is our only hope. If we take effective steps in that then all our problems will be solved."
The Minister of Environment and Forests said, "The main issue is that COP-26 is on the 31st of this month. We are taking part. We will discuss preparations and objectives, especially what matters; We have discussed what decisions to make."
The meeting was attended by the newly appointed ambassadors of the EU, Denmark, Italy, Spain and Sweden. Also present were Foreign Secretary Masood bin Momen and Secretary for Forest Environment and Climate.
The Foreign Minister said, "We have made it clear to them that Bangladesh is a climate-vulnerable country. Even though our carbon emissions are low, many people are losing their homes due to river erosion and global warming. Everyone must come forward to solve these problems. We have told the EU that this is not our problem. We don't imitate. These people are losing their homes because of you. You insist on this. We have given our data, we have said that your NDCs in COP-26 will be formed in such a way that global warming does not exceed 1.5 degrees Celsius."