Bangladesh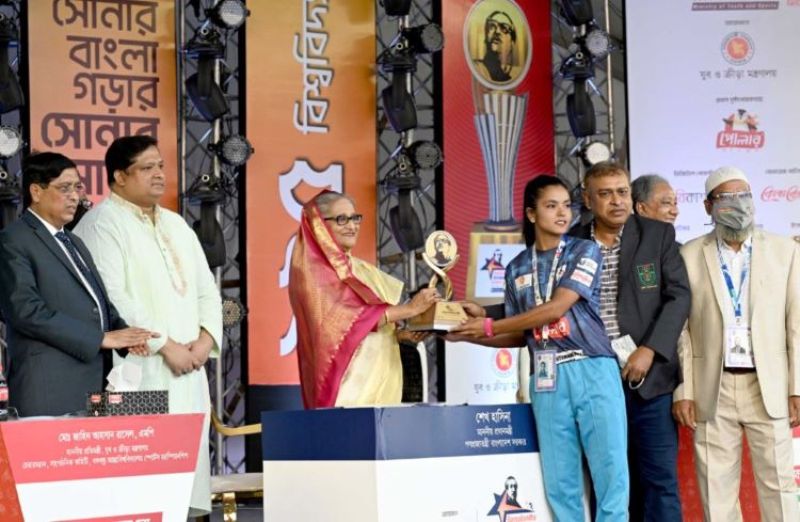 PID
Our sons and daughters will play world cup one day: Prime Minister Hasina
Dhaka, November 25: Mentioning that our boys and girls are developing more through inter-school, inter-college, inter-university competitions, Prime Minister Sheikh Hasina expressed hope that this way they will be able to compete in the World Cup one day.
She said, "From the sports that have started today from primary to inter-university, I think that one day we can improve in sports in the world only through this competition."
Prime Minister Sheikh Hasina said this while addressing the chief guest at the concluding and medal distribution ceremony of the third edition of the Bangabandhu Inter-University Sports Championship on Wednesday afternoon.
She personally attended the program organized by the Ministry of Youth and Sports at the Bangladesh Army Stadium in the capital. Minister of State for Youth and Sports Zahid Ahsan Russel presided over the event and Secretary of the Ministry Mezbah Uddin delivered the welcome speech. The Ministry of Youth and Sports organized the 3rd edition of the sports competition under 12 events with around 6,950 participants including 1,850 women from 125 public and private universities of the country. Around 720 medals were distributed among the best performers under 12 events including football, cricket, athletics, volleyball, basketball, table tennis and badminton, kabaddi and chess.
The Prime Minister lamented and said, "Even though the World Cup is happening (World Cup football), we have no position." Referring to this as very painful for her, Sheikh Hasina said that she watches the World Cup games on television and thinks when the sons and daughters of the soil will play in this World Cup.
Mentioning that our girls are showing excellence in various age-based football tournaments including SAFF Games, Asian Games, cricket, she expressed hope that boys too can one day. That is why her government is branching BKSP into eight categories so that players can excel in all events, and that's why training is absolutely essential.
She said that the Father of the Nation realised the importance of training during the reconstruction of the war-torn country after independence and sent players to Germany, India and other countries for training. Therefore, her government is also providing training for boys and girls in various branches of sports and creating more opportunities for sports.
The Prime Minister said that despite the limited opportunities, the government's efforts in this regard are continuing and even within the limited opportunities, our boys and girls are doing well enough and she expressed hope that they will do better in the future.