Bangladesh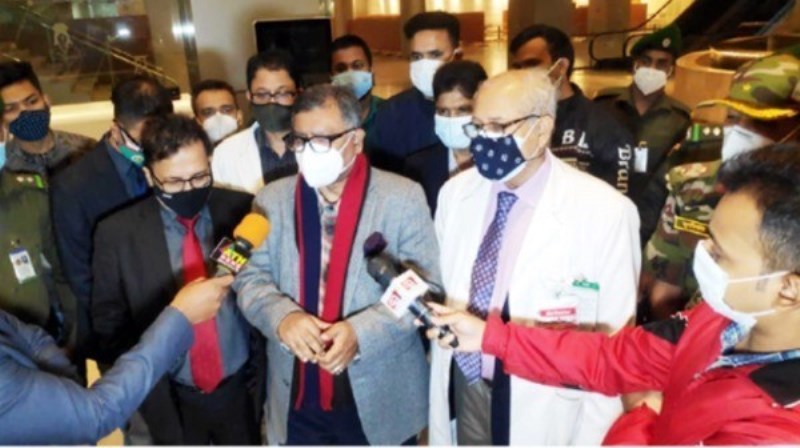 Collected
Vaccination is a personal matter, will not force anyone: Zahid Maleque
Dhaka, January 27: Health Minister Zahid Maleque has said that authorities will not force anyone to get vaccinated as it is the person's own choice, however, he urged citizens to get vaccinated.
"Vaccination is a personal matter. We will not force anyone to vaccinate. We will call for vaccinations. Because vaccines are effective in preventing coronavirus. We were anxious for the vaccine. So I would urge those of you who are interested to come and get vaccinated," the health minister said while visiting the Bangabandhu Sheikh Mujib Medical University (BSMMU) Covid-19 vaccine facility and preparations at the Bangabandhu Conference Center in the capital's Shahbagh on Tuesday (January 26th) afternoon.
Regarding who can get vaccinated and who can't, the health minister said, "Apps have been created from the ICT ministry. Through the apps, it will be possible to know who can get vaccinated and who cannot. Those over the age of 55 can register. Doctors, nurses, health workers, members of the police force and members of the media can also register. Pregnant mothers and many sick people cannot register there."
Asked about the app, he said, "Although I don't know the technicalities of the app yet. As far as I know, all those who will register or be able to register in accordance with the guidelines of the app will be vaccinated."
He also requested everyone to get vaccinated and stop indulging in any negative publicity.
Vice Chancellor of Bangabandhu Sheikh Mujib Medical University Prof. Kanakkanti Barua and Director General of the Department of Health Prof. Dr. Abul Bashar Mohammad Khorshed Alam and Director of BSMMU Hospital were present on the occasion.
Meanwhile, the health minister visited the vaccination center at Dhaka Medical College (DMC) Hospital and said that the hospital authorities have taken very good measures to administer the vaccine. Seating has been provided for those who will be vaccinated. They will first register in the waiting area and then they will be taken for vaccination. There are separate rooms for men and separate rooms for women.
He added that if there is any problem after taking the vaccine, all the treatment arrangements have been made for it, as well as the bed. No one will leave immediately after receiving the vaccine, they will wait a while and be under the observation of doctors-nurses, who will keep an eye out. The patients will be able to leave when they feel fairly well.
The minister said that the vaccination process is not a one-day event, it will last a long time and arrangements have been made that way.