Bangladesh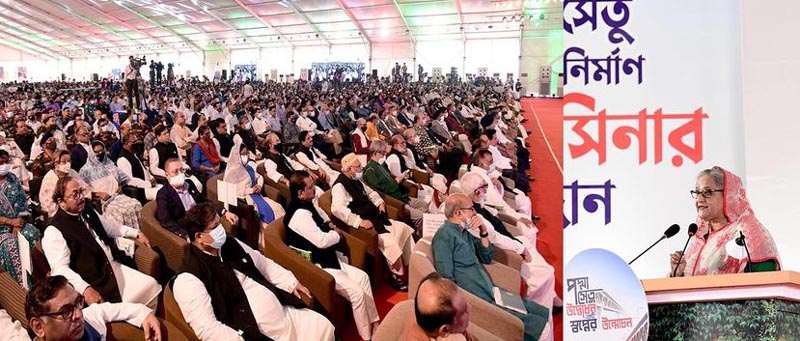 PID Bangladesh
Padma Setu: Sheikh hasina thanks Rehana, Joy, Putul
Dhaka, June 26, 2022: Prime Minister Sheikh Hasina, daughter of Father of the Nation Bangabandhu Sheikh Mujibur Rahman, apparently became emotional while recalling many past propaganda centering on the construction of Padma Bridge.
Speaking at a huge rally on Jazira on Saturday, she slammed various propaganda against the Padma Bridge and negative remarks aimed at his family.
Thanking her younger sister Sheikh Rehana, son Sajeeb Wazed Joy, daughter Saima Wazed Putul and nephew Radwan Mujib Siddique Bobby, the Prime Minister said they had become the target of a shameful attack on a section opposed to the construction of the Padma Bridge.
"They have been defamed and false information has been spread against them," she said.
The Prime Minister also thanked her then Economic Adviser Dr Mashiur Rahman, the then Communications Minister Syed Abul Hossain and the then Communications Secretary Mosharraf Hossain Bhuiyan.
She added, "The Padma Bridge is the answer to all these insults."