Bangladesh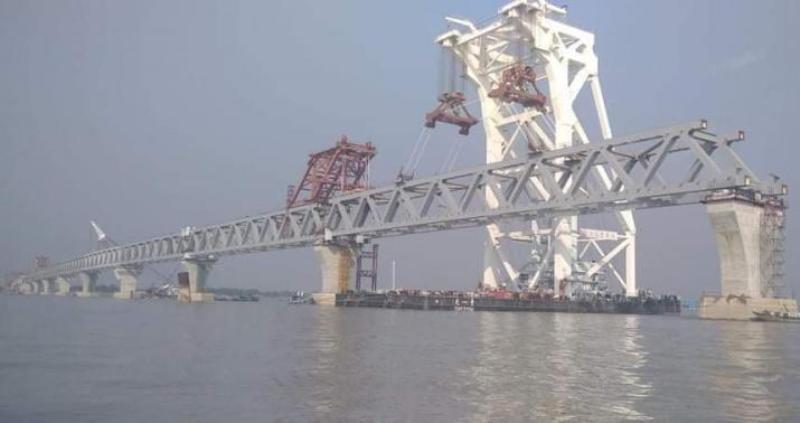 Collected
5,700 metres of Padma Bridge visible
Dhaka, November 21: In just nine days, the 38th span of Padma Bridge has been placed on the 1st and 2nd poles of Mawa end of Munshiganj. The span was placed on poles 1 and 2 on the Mawa side at 2.35 pm on Saturday.
Through this 5,700 meters of the bridge became visible. Of the 41 spans, only three remains to be placed now.
Padma Bridge authorities said three more spans would be set up before Victory Day. Of these, one more span will be installed this month.
Dewan Md. Abdul Quader, executive engineer (main bridge) of Padma Bridge, said the floating ship 'Tian E' took the span from Kumarbhog's construction yard.
After the span '1-A' was delivered to the poles, the process of installation began. The span was set up at 2.35 pm after anchoring and other ancillary works. Earlier on November 12, the 37th span was placed on the 9th and 10th poles on the Mawa side.
He said 41 spans would be installed on 42 poles of the bridge. Of these, 38 spans have been installed and 5,700 metres of the bridge is visible now. Less than half a kilometre of the 6.15 km long double-decker bridge remains to be completed now.
Besides, other activities of the bridge are also going on at a fast pace, he said, adding that 1,211 roadway slabs and 1,800 railway slabs have already been installed. Work on connecting bridges and river governance is also progressing fast. The progress of the main bridge is 90 percent and the overall progress is 82 percent.
According to the bridge authorities, the Padma Bridge, which started in December 2014, will be opened in 2021.